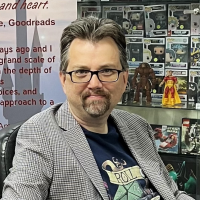 NICK ALIMONOS
Action & Adventure, Science Fiction, Fantasy
There has never been a time in my life when I haven't been thinking about storytelling. I wake up with it, shower with it, and go to sleep with it. Before I even knew how to write my name, I was asking random people to jot down the fictional scenarios running rampant in my head. When I couldn't find willing assistants, I used tape recorders to flush the stories out of my skull, resulting in a stack of hour-long cassettes filled with the incoherent ramblings of an overeager, ADHD-riddled preschooler. When I turned nine, I convinced my father to fly me to New York City to sell my comic book ideas to the receptionist at DC Comics. While that didn't pan out, I knew I had a penchant for the written word when my third-grade creative writing teacher told our class he had never met a more gifted student. That prompted me to query my first book to publishers at the tender age of fourteen, and by high school, I had finished my first ninety-thousand-word novel, "The Nomad." I received my BA in English at the University of South Florida while pursuing an MA in Ancient History. During that time, I won 1st, 2nd, and 3rd place for each of the three stories I submitted to a fan-fiction contest, while my horror story, The Gorgon's Lover, received runner-up for the Mary Shelley Wollstonecraft Award.

In 2017, I released the first in my fantasy series, "Ages of Aenya." The spin-off and follow-up to that book, "The Princess of Aenya," has received a number of accolades. IndieReader gives it 4.7 out of 5 stars, remarking, "Judged by top industry professionals–not as merely a great indie book–but as a great book, period," while KIRKUS MAGAZINE included "The Princess of Aenya" on their list of 20 Great Indie Books Worth Discovering.

"The Feral Girl," a prequel to "Ages of Aenya," was released in May of 2022.
Video
https://youtu.be/bSrxu1glLTw