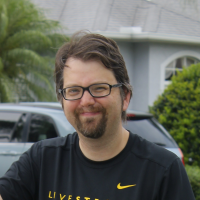 NICK ALIMONOS
Action & Adventure, Science Fiction, Fantasy
From age six, I knew that I wanted to be a writer. When I turned nine, I dragged my father to DC Comics headquarters in New York City, to promote my superhero, the Red Panther. At fourteen, I was querying publishers for my Greek demigod anthology series, and I finished my first full length novel, The Nomad, in high school. I earned my BA in English from the University of South Florida, where I helped as a tutor, and ran a fan-fiction site featuring works by a plethora of aspiring writers. My fiction has earned me a small but loyal fanbase, and a number of accolades, including runner-up for the prestigious Mary Wollstonecraft Award for my short story, The Gorgon's Lover. In 2004, I released The Dark Age of Enya, a precursor to the Aenya series.

​
The world of Aenya, its heroes and its history, has occupied my brain for over fifteen years, and continues to be an ongoing passion. The first in the series, Ages of Aenya, was released in 2017. It is succeeded by The Princess of Aenya, and the upcoming, The Children of Aenya.
Video
https://youtu.be/bSrxu1glLTw
As always one of her books was next to her.
Markus Zusak